Discussion of Velo Vision magazine contents and all topics likely to be of interest to Velo Vision readers.
Back to forum home
Back to general discussion...
Recumbent Trikes (9 replies and 6 comments)
I own three trikes, a rather tatty looking 2007 ICE QNT, a 2008 Kettwiesel 27 speed and a 2011 Catrike Trail. (The first one to have a fold down seat, although mine never goes down!)
What does everyone else ride?
Ice Vortex FS.
I have just sold my Bacchetta Giro 20, now thinking about what to replace it with - high racer or something a little lower. I have just started riding Audax and want something suitable for longer rides, possibly with rear suspension. The Challenge Furai looks like it might be a good choice.
A friend was telling me the other day how he regretted selling his Bacchetta. Not sure what model but he rode with a road club.
I don't regret K4wils selling it 😉
Glad you're enjoying it JJUK
Ice SprintFS and Bacchetta Giro 20
What I have and what I ride are two different categories, sadly. I do have a recumbent trike, hanging in a secret location alongside some other things. Recently I have been riding my 8 Freight, Brompton, Dawes Kingpin (v1), ICE B1 (punctured) and Raleigh Royal (531) a fixed-gear cyclocross conversion.
Like Howard's, my trike is still rather in storage, though getting it out and fixing it (the brakes, mainly) is reasonably high up the post-magazine to do list :-). It's an S-327 from AS Engineering of Russia:
(picture here when I can work out how)
More details here.
Glad to know you are still showing your Russian leanings Peter.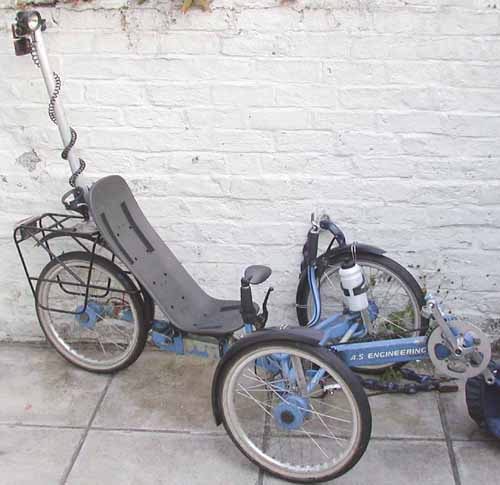 First saying Hello post...
Trikes I have... a 2003 Catrike Speed #69 and just got a 2003 ICE XL, Fast Touring Upgrade, which has the DD rear hub. The XL has been amazing me since the first ride and I'm now hooked on the DD rear. No idea how I made it without one again for so long...First trike a Stein Viper had the Sachs 3X7..when I sold the Viper I included the hub...wrong.
Just sold my GS GT3 Series I, had to do that to pay for the XL....Speed was a bargain...I found it on Craig's List for $300. Just had to drive to Southern New Jersey to rescue it......first thing I noticed about the Speed when I put it in the car..weight, lack of.....
Jim
In the spirit of the thread's title, my trike is a 2012 carbon Quest velomobile. I have a lot of miles now on my 2007 Lightning P-38 (see VV issue 28) which I still love to bits. I also have a RANS V-Squared F26 that shamefully I haven't been riding very much at all since the Quest arrived, so I really ought to find it a more deserving owner.
No trikes at the moment but I'm starting to miss them. Previously had an ICE T, Catrike Speed and ICE Sprint 26. I really would like a light and comfortable trike. Catrike and HPV seem to be beefing their offerings up each year into SUVs. A CarbonTrikes would be wonderful but would I dare lock it up anywhere, and if so how?
I ride a Greenspeed GTT. Does anyone else ride a recumbent tandem trike (apart from Peter E, whose trike has had a fair bit of coverage over the years) ?